What is Pinsa? How is Pinsa made? We are sure that at least once you will have asked yourself one of these questions. Now known to everyone, Pinsa is a speciality of Italian cuisine made of a flour mixture, a high percentage of water and a low quantity of fats. Apparently simple, in reality, the dough of the Pinsa Romana requires a long processing and accurate stretching by hand. This results in a highly digestible product that is crispy on the outside and soft on the inside.
Join us on this gourmet journey and discover what Pinsa is and how it originated.
We promise that you will wonder how life was before Pinsami!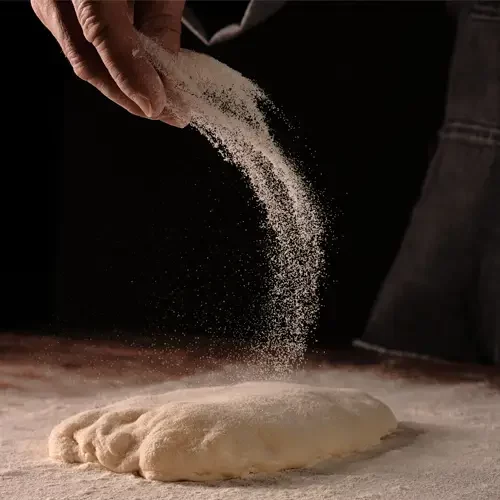 To understand the origins of Pinsa let's start with the dough, unique in its kind because it is made of three different flours mixed together: wheat, rice and soy flours. They are finely processed to obtain a mixture with a low percentage of gluten, high water content and no added animal fats.
Do you know how long it took us to make this video? 24 hours and counting! Just like the rising time of our Pinsa which we let rest and rise slowly for at least 24 hours! Patience is indeed needed; only in this way, you can get a light and very digestible Pinsa.
Pinsa is famous for its narrow and oval shape, which favours the proper release of excess moisture during the baking process. The wavy surface is obtained by the pressure of the fingers of the Pinsa-makers:
bubbles allow to retain the air in the dough and make Pinsa so crispy and very digestible!
Once stretched out, our Pinsa bases are quickly cooked right away to stop the rising and proving of the dough at the perfect point. What's missing to get it on your table? Just 5 minutes to be cooked on the grill of your oven at home and ready to eat: "bon appetit!".
But this not the end of our journey together, discover more about our range of high-quality Pinsa products!